Welcome,
Dealing with only reputable USA suppliers, Worldwide Brands Wholesale Directory is often overlooked by dropshippers. I have known about this one for years, but never really felt inclined to take a serious look at it again until a few of weeks ago.
I have written about Salehoo quite a bit in this blog, but recent changes have seen Salehoo become little more than a Shopify plugin.
Worldwide brands on the other hand seems to have maintained its integrity, as an independent wholesaler. Let's take a look.
Overview of Worldwide Brands.
| | |
| --- | --- |
| Owners | Worldwide Brands was started in 1999 by Chris Malta. |
| Head Office. | 465 S Orlando Ave. #209. Maitland, Florida. 32751 |
| Website | Worldwide Brands. com |
| Better Business Bureau Rating | AAA+ Worldwide Brands has been a member since 2003 |
| Business Activity | Providing access to Top line wholesalers for the work from home entrepreneur. |
---
How Much Does it Cost to Become a Member of Worldwide Brands and What do you get?
Looking at the membership page and it will set you back nearly $200 USD. $199 to be exact. The normal price of $299 has been crossed out. I just realized we are in the silly season, so the price won't stay down there for long.
The benefit:- it is a once only payment and you are a member for life. No monthly or yearly fees.
In other articles on this site, I have said that dropshipping is a steppingstone to having an import company (if you are selling stuff from o/seas).
A quick trip to the wharves, or a drive around an industrial area and you will understand what I mean. It is the lifeblood of our economies.
Other benefits of becoming a member of the worldwide brands directory.
It has the internet's largest directory of certified wholesalers.
All items are suitable for listing on E-Bay and Amazon as well as your dropshipping store. whether it be on Etsy, Shopify, or Woo-Commerce.
All suppliers are used by retail chains.
You get direct wholesale pricing and the best possible wholesale prices.
Suitable for USA and International dropshippers.
How Dropshipping works with Worldwide Brands.
They remove two layers of cost for the online seller.
I have mentioned in other posts on this blog that many of the sellers on Aliexpress are actually retailers themselves.
Once you become a member of Worldwide brands they take you past all of the garbage and catapult you straight to the Top-Level Authorized Distributors for the products you want to sell.
I have included a video below, but I will go a little off topic for a minute.
It is one thing to contemplate setting up an online business.
But if you do bite the bullet and give it a try, then start with the mindset of a businessman.
Many people dive in with the mind set of "its only a side hustle".
The trouble with that is, if your side hustle takes off, then there is a lot of backtracking to catch up on.
Profit and loss statements, Return on Investment to just name a couple.
It doesn't take much to set up a couple of excel pages and keep a record of your costs, suppliers details etc.
To see the full scope of Worldwide Brands Business click here
What you need to get set up with dropshipping. Let's start with TAX.
For those in the USA.
To work with any legitimate wholesale supplier, you need a tax ID.
The tax ID is called a Sales & Use tax ID in most States.
It can also be called a Seller's Permit or Reseller Certificate. Check with your State's Department of Revenue
Tax for those not residents of the USA.
Since International rules differ from the US, there is no tax ID involved like you would need for the USA.
So, you will typically not need a tax ID in order to work with US wholesale suppliers. There will probably be a form the wholesaler will provide a link to where you claim an exemption if you are not an American citizen.
However, you will still need to obtain a registered business name and any other documentation required to prove you are a legitimate retailer. So check with your country or region, to see what you need to show you are a genuine retailer.
There are a lot of free resources online you can make use of. Google starting a business in (your country), to find the requirements your government wants.
You may have to apply for an ABN number if in Australia or a VAT number if in Europe. Other countries will likely have something along those lines as well.
How does Worldwide Brands work for dropshippers not in the USA
Over 50% of there listed wholesale suppliers will work with international retailers.
That means over half of our 8,000 listed suppliers will work with you! If you are interested in a specific country, and only want to work with wholesale suppliers in that country, you are welcome to contact their customer support and they will check for you.
Although there are some limitations with Worldwide brands for international business, shipping cost and delivery times will be the biggest hurdles to overcome.
Really though they are obstacles that can be overcome by being upfront about it on your website.
A statement like "This ships from the USA," is not going to deter people from buying.
In fact it might have the opposite effect.
Do I need a Website to use Worldwide brands?
Not necessarily. You can buy from their catalogue and stock the items in your brick and mortar store.
Forking out money for Shopify or Wix website, can be counter intuitive sometimes, compared to other options.
The costs may not seem much, but when you start adding $35, here, $25 for that plugin, $10 for this email etc, etc. it soon adds up.
You can sell on E-Bay without a website. Although it is becoming less attractive to have a store on E-Bay.
Other options include Woo-Commerce. I have an article on how to set up a dropship store on Woo-Commerce.
Still by far the best option, with 1 in 4 E-Commerce sites built on WooCommerce.
How does Worldwide Brands integrate with your website.
In a nutshell it doesn't. The purpose of Worldwide brands is to source and verify wholesalers. It has no integrations with any any websites. Once you become a member and find a product for your "niche" , it is up to you to contact the wholesaler(s) who supplies the widgets you desire.
You will also need to set up an account with the wholesaler. This is generally straight forward using your website as a business name and the tax details you have received from your your government if applicable.
Once the paperwork is taken care of, the wholesaler will provide you with all the images & product descriptions that you will need to sell the product. This usually comes in a CSV file which you download into your product list.
Conclusion and Rating
Worldwide Brands seems a little old school, compared to some of the Asian and European directories, who have developed plugins for product downloads. Aliexpress and Spocket for example.
While these plugins seem like a great asset, there is still work to do on the product descriptions, shipping costs and the fulfillment process. Not all are without bugs, and constant updates are required.
With 8000+ wholesalers to choose from, Worldwide Brands business model, is more of an introductory one, rather than one integrated with your site, or the wholesalers products.
Their business is not tech development, so they have stuck to a business model, which has served them well for 20 plus years.
Really, the way it works is a chain of expectations.
Your customer needs good products
You need to stock good products
The supplier needs to supply good products
So Worldwide Brands does a thorough review at the manufacturing level, before recommending products at the retail level.
As they say good products = a returning customer.
So How good is Worldwide Brands?
I never try to embellish anything with online programs. Whatever you do, there is work involved. Nothing will fall into your lap.
From the reviews I have read many people have had life changing experiences. I am not a member of Worldwide Brands but from the outside looking in, I will rate it highly.
One thing of particular interest to anybody wanting to start an online business is Chris Malta's free video series.
Click on the banner below to see the free video series. .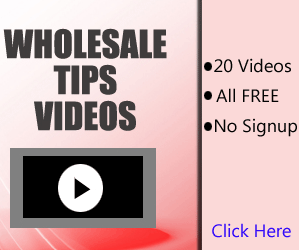 My Rating:- 8:5 / 10
Enjoy the video below,
'til next time
Michael