How to Make Money with a Hobby – Teds Wood Working Review. 
Going back to my roots with this. About 10 years ago I received an email with the subject line something like you see above. How to make money with a hobby. This Ted's woodworking review is from personal experience. 
Although it was American, I went ahead and bought it. Converting Feet and Inches to Centimeters and Millimeters was no big deal.
Australia didn't convert to the Metric System until after I left school, even now, you can buy rulers and tape measures that have both metric and imperial measurements on the tape.
What I found.   Most of the plans had both imperial and metric units for measurements,  with a handy unit converter included for those that only want imperial units.
When I received Teds Woodworking Plans, to say I was Impressed would be an understatement.
The detail on the drawings is comprehensive and they are laid out in a way that anyone, even someone with no experience in woodwork can understand them.
These day's things have changed a little.
Teds woodworking is now called,  "The Earths Largest Resource of Woodworking plans"  A sample of the awesome plans available when you buy Teds Woodworking Plans.
Visiting craft markets on a weekend is always refreshing, in among the lines of stalls selling fresh fruit and vegetables, home made chutney's, kids clothing, there will be a stall or two selling wood crafts.
While this may sound like a middle age thing or a retirement hobby thing,  there are young couples who have built substantial business's starting only with Teds Woodworking Plans.
 Pinterest .  All those fascinating pieces people create. The simple, the elegant,  the contemporary and the unusual.  It all starts with an Idea. Teds Woodworking has 16,000 of them you can use, adjust or try and improve upon for your own use or someone else's.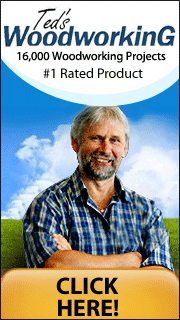 What are these Plans about?
Even experienced woodworkers have trouble building complex projects, or sometimes the simple ones to meet specific needs, especially if there is no detailed plan.
Many of the so-called "step by step" guides found online and in various magazines make building some projects harder than they should be.
Because the plans are sometimes not specific enough, or their instructions leave out crucial information, assuming that you have enough experience to know what to do.
In addition, such plans don't have enough detail.
For instance, some don't include pictures,  or the pictures they have, don't match what they are telling you.
Still, many don't include cut sheets, so you are forced to "guesstimate" materials which for the inexperienced can lead to indecision.
Ted Mcgrath spent over 25 years studying these problems and finding solutions to woodworking problems, especially those related to finding the right plans for various projects.
Ted has put together a comprehensive collection of woodworking plans, 16,000 of them, every plan comes with a step-by-step blueprint to make it easier for you to create stunning, professional woodworking projects hassle-free, quickly, and easily.
Who are these plans for?
If you are a woodworker looking for detailed plans to build a dream project, or if you want a variety of plans for various unique projects, these plans will have you covered.  The website has helpful insights for both beginner woodworkers and more experienced ones.
Not only men, but also many women have taken up the challenge and have become very successful at creating classic wood items using the plans from Teds Woodworking.
I mentioned in  Another Post, some opportunities available in the offline world which can be quite lucrative.
The out lay for Teds Woodworking plans is not great,  Far cheaper than starting an online business. Plus it has the added attraction of becoming a valuable asset.
Why you should Check This Out
Experienced woodworker or not, there is a huge variety of plans all done  with easy to understand instructions. Anyone with an interest in woodwork will derive great satisfaction  completing a project.
I gained new insights and learn new methods for completing projects, with just hand tools.
Although it is good to have expensive tools or a large woodworking workshop it was not absolutely necessary.
Some of the things offered by Teds Woodworking Plans.
Easy-to-understand step by step instructions; Every plan has simple "hold-you-by-the-hand" instructions that will assist you to complete your projects quickly.

You get sharp, colorful and detailed schematics. No guesswork is involved, you will know what to do and how to do it and complete your projects within the shortest time possible.

The intricate details for every joint, angle and corner make sure you are not left guessing.
In addition, you will also get new plans every month for free.                
The plans cover all levels of competence and skills. You don't have to be an expert woodworker or have expensive tools and machinery to use the plans.
If you are restricted for space, Ted has that covered too, with his Ultimate Small Shop
Whether you just want to do projects for your own enjoyment or set up a good Home Based Business, 16,000 woodwork plans is definitely a large enough resource to get started.
A few words on Safety. 
This is not meant to dampen your enthusiasm  and Ted has a section in his manual on working safely. But if your New to woodworking,  as well as personal protection, you should get as much information on the materials you are using, and the tools you will use. 
The photo below is of a kayak I made from Western Red Cedar. It is 21ft long, so you can imagine the sanding needed in fairing this boat.
Unfortunately  Western Red cedar dust can cause respiratory problems and eye irritation. 
In any wood working project there will be a requirement for sanding.
Protective gear should be worn, and disposed of after use,   Washing your clothes separately is a good idea.  
Generally the industry standard for this type of work is P2 disposal masks.  If you have a beard, they will not be as effective as if you were clean shaven. 
You should not scrimp on the cost of protecting yourself, particularly if you are working in a confined space.
There is also the use of glues, paints, varnishes and stains.  These can cause skin and eye irritations. Protective gear does serve a use, and it is only common sense to make use of them.
Disposable gloves, are readily available at supermarkets or hardware stores, also  garden gloves or rubber gloves can be quite useful for some tasks.
Teds woodworking is known for 16,000+ plans. His tips are work best practices and should be followed.  Protect yourself, your tools, and this will lead to professional quality work. 
You will get these Bonuses.
1. Free drawing and CAD plan viewer ( You can now edit and modify your plans). 
2. 150 premium woodworking videos
3. The Complete Woodworking Carpentry Guide . A 200 page guide which will be very useful to beginners, and the 150 videos will give the experienced woodworker tips and tricks to hone his carpentry skills.
Plus. You can have these now.      50 FREE PLANS
Conclusion.
Is it worth the money? 
This is now quoted as the largest woodworking resource in the world. With so many others on the market, I would say compared to the others this is the best value for money resource on woodworking you can buy. At $67.00 it is a steal. 
I bought it when it was first released, however not all the bonuses offered now were available then.  Not only has it stood the test of time, it has become even better, with a 60 day, love it or shove it money back guarantee. 
It is still popular with people who have a creative slant who like making things that are useful, and others who want to save money by making their own furniture or bigger structures, even others who have used it to start a successful business

Thanks for reading. 
Michael.